Google Ads Management Services
We set-up, manage and continually optimize Google Ads (PPC) advertising campaigns.
We are Google Ads Certified Experts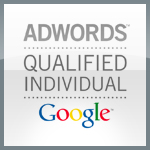 David E. Fowler is Google Ads Search certified. That means that he must pass an annual Google Search Ads exam with a passing grade of 80% or higher. To maintain PPC Solutions Google Partner designation, David must also maintain certain account performance and ad spend levels.
Google Ads Coupon – Get up to $600 in Ad Credits
When you sign up, we automatically generate a coupon from Google for you using our Google Partners account. Usually, the coupon provides a $600 credit if $600 is spent within 60 days. In 2016 Facebook Ads formally discontinued coupons. Microsoft Ads does not offer coupons.