Google Ads Management Services
We set-up, manage and continually optimize Google Ads (PPC) advertising campaigns.
We are Google Ads Certified Experts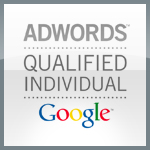 David E. Fowler is Google Ads Search certified. That means that he must pass an annual Google Search Ads exam with a passing grade of 80% or higher. To maintain PPC Solutions Google Partner designation, David must also maintain certain account performance and ad spend levels.
Google Ads Coupon – Get $150 in Ad Credits
When you sign up, we can generate a coupon for you using our Google Partners account. Usually, the coupons provide a $150 credit once a minimum of $150 is spent with Google Ads in the first 30 days.
For the beginner, setting up and managing a Google Ads PPC campaign is challenging, resulting in poor performance, and low return-on-investment (ROI). Let us set-up your campaign done the first time right.
On occasion we have come across some individuals and businesses have tried Google Ads but say "it didn't work". Pressing them on the details we discover that they set up the campaign themselves, or used a web designer who didn't specialize in pay-per-click (PPC).
When you place your own Google Ads campaign you are up against pros who have the knowledge and experience to make their ads rank above yours. Using an experienced PPC manager means that your campaign will bring you results sooner, saving you time, frustration, while building a long-term pillar of your business' marketing.
Common Ads mistakes:
Too many broad match keywords

Not enough ad groups

Too few ads

Bad ad copy

No use of advanced features like: extensions, conversion tracking, & remarketing
Our pledge: If we don't think that Google Ads will help your business – we will tell you. We are interested in long term relationships with our clients – not a series of disappointing "one-offs".