PPC Solutions is David E. Fowler

, B.A., B.Ed. David is Google Ads Search certified.  That means that he passed an annual Google Ads exam with a passing grade of 80% or higher. To maintain his certification he must pass each exam again annually. To maintain PPC Solutions Google Partner designation, David must also maintain certain account performance and ad spend levels.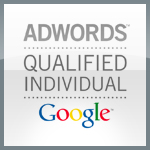 Further, David has been in the online marketing business since 1995 and has a wide array of experiences to draw upon to make your online marketing campaign successful.  In the past David managed web site hosting and DNS services as the manager of the largest dial-up internet access company in Kelowna in the 1990s.  David also set-up and successful ran an online newspaper, Castanet.net, where display ads were the only income for the company.  David has the experience and know how to optimize your online marketing budget.  Learn more about David on his LinkedIn profile.
Started a dial-up internet service provider in 1995 and quickly grew it to be the largest in town, selling it at the height of the dot com boom in 2000.
In 2003 made headlines with his unprecedented online coverage of Kelowna's 2003 Okanagan Mountain Park Fire  David provided 24/7 news and updates on the fire on a blog. David's efforts were widely recognized and credited as being a core part of the emergency response to the fire. The City recognized David's efforts by having him accept the thank you award on behalf of the city's media.
From 2003 – 2010 David took the reigns of a struggling, hyper-local, online newspaper Castanet.net and turned it around to be a serious player in the local advertising market rivaling local newspapers. When David left the company in 2010 its margins were 25% and site traffic continued to grow.
In January 2013, David was awarded the Queen Elizabeth II Diamond Jubilee Medal by the Governor General of Canada in recognition of his volunteer efforts.
Bachelor degree (with distinction) in Education
Bachelor degree in Sociology and Political Science (double major)
Online strategy isn't guesswork
To monitor your progress to your goal
Do Not Reinvent The Wheel
Great inexpensive tools exist
We use project management software
Under-promise and Over-deliver
No one likes to ever be let down
Start the conversation
Get a free 'no-pressure' consultation

We'll review your existing online marketing campaign and provide actionable suggestions such as PPC, SEO, or design to take your marketing to the next level.
Start the conversation